EQUESTRIAN HALL
The hotel resort has a modern equestrian hall measuring 40 x 20 metres. This allows us to provide horseback riding in any weather, and during the winter and summer months. We are not dependent on the weather. Jumps and other obstacles are available for experienced riders. In addition, when riding indoors, there are fewer stimuli to help keep your horse calm. The hall is safer and is equipped with slanted guardrails, which mainly protect the rider's lower limbs. This makes horseback riding safe for children as well.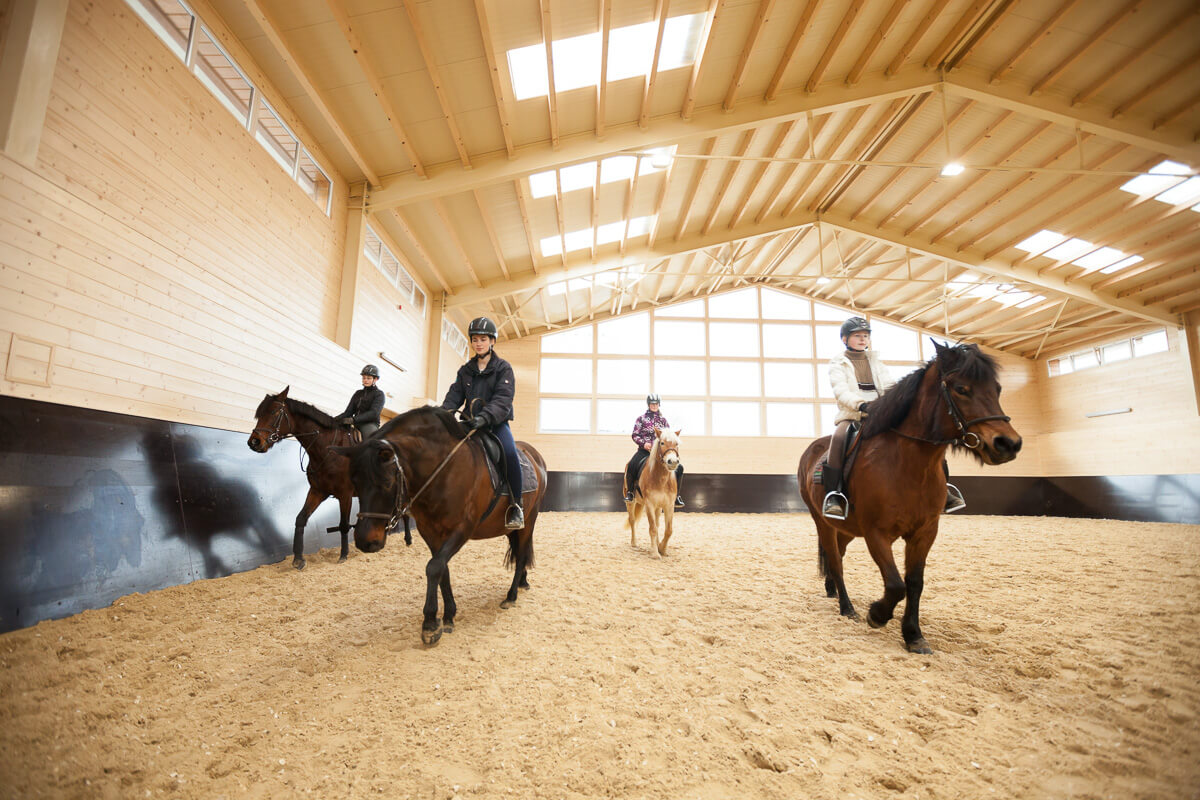 RIDING SCHOOL IN ORAVA
Riding courses are conducted individually. The instructor only focuses on you, one rider. Theory is connected with practice. The instructor explains the theory as you ride. The riding lesson starts with cleaning and saddling the horse. Then there is a ride in the riding school. In the riding school, students learn how to sit correctly, discover how to control and clarify the behaviour of the horse and its reactions, and get to know different horse gaits such as the walk, canter and trot. The minimum length of a lesson at the riding school is 30 minutes. Courses can be taken from Wednesday to Sunday from 9:00 AM to 4:00 PM. Another option is the riding ring, which is for children from 10 to 18 years old. It takes place once a week, most often on weekends and holidays. Children undergo routine horse care, prepare horses for riding and also ride horses.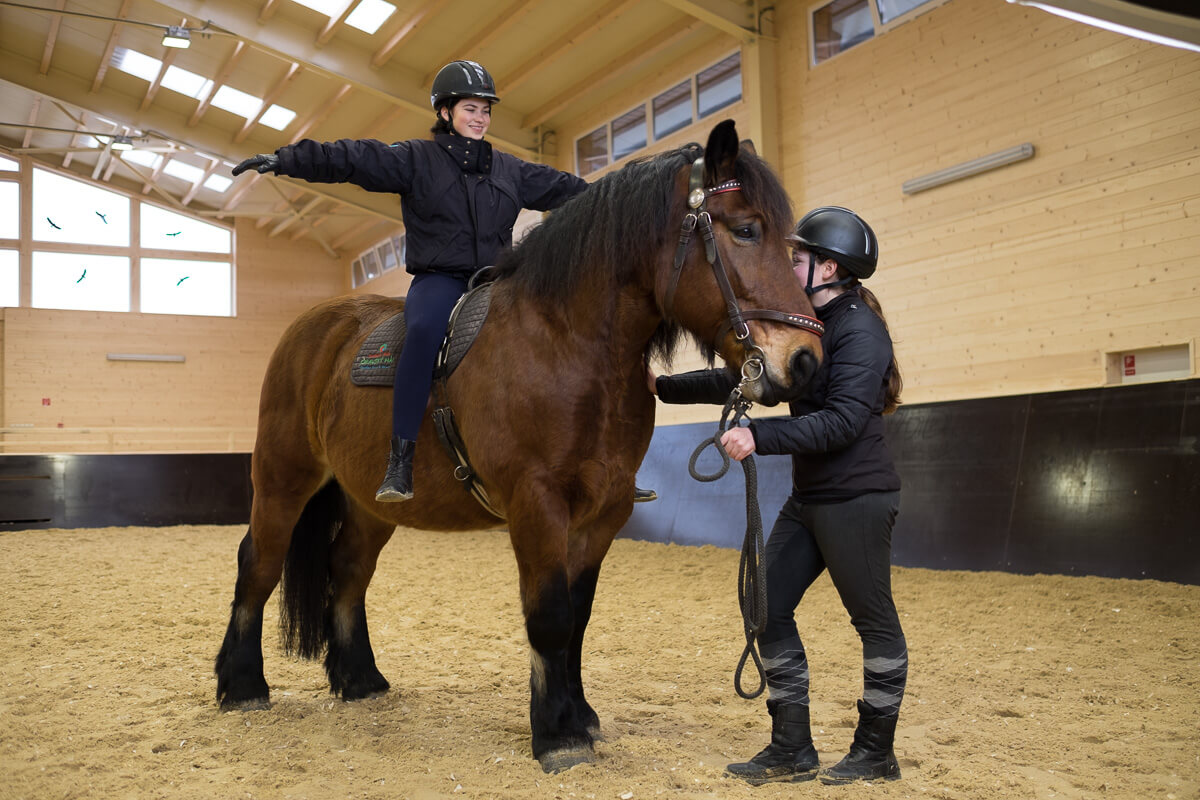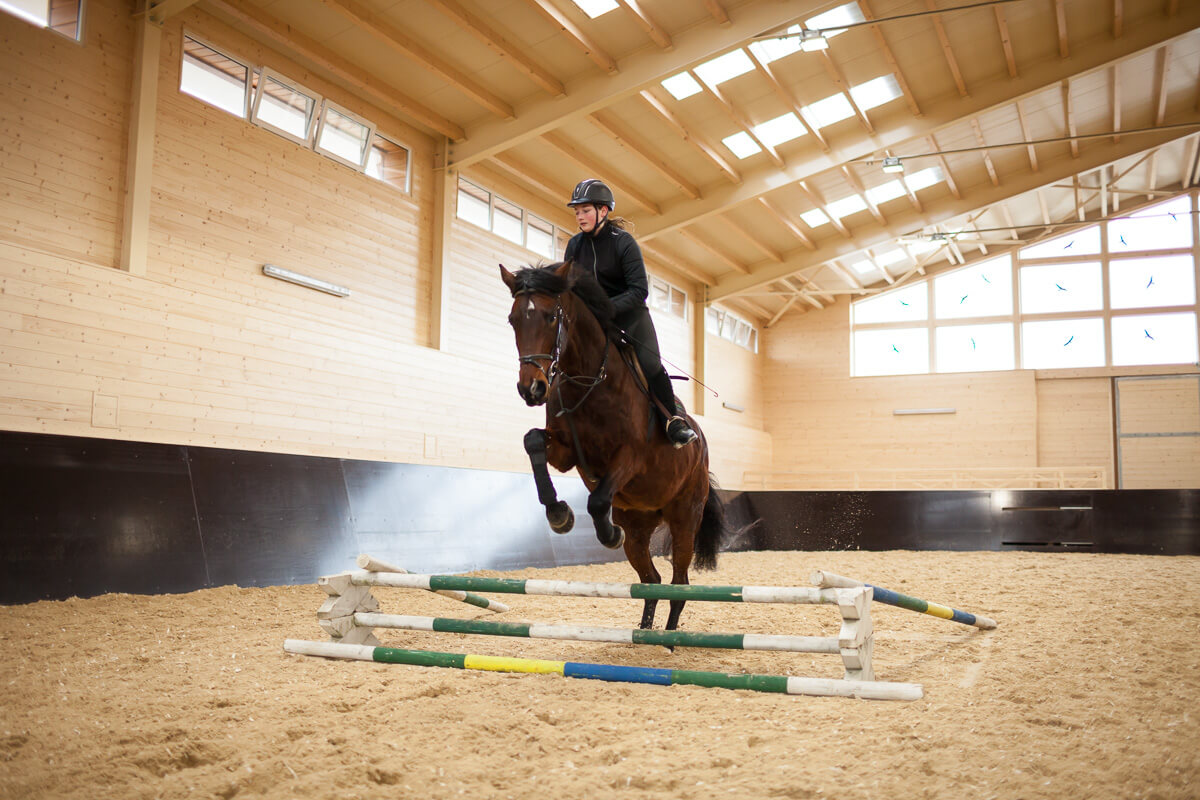 EXPERIENCES ON HORSES
If you have your own horse, you can ride with us, too. For hotel guests, we also offer the option to stable your horse in one of our 7 stable stalls. If you would like to visit us for several days, you can also use our fabulous accommodation. Horseback riding is really available to the general public!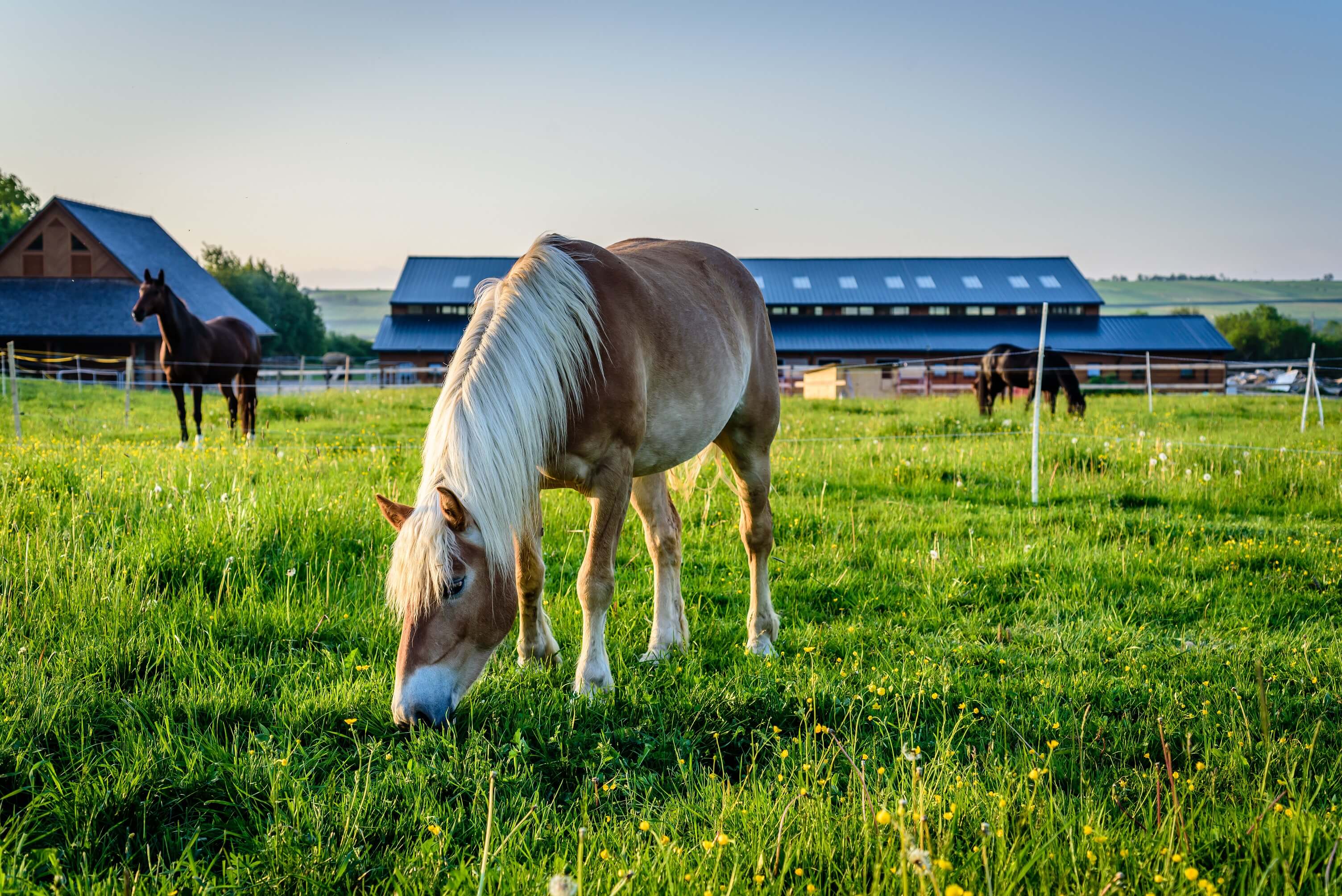 Short circuit
A short horseback ride is perfect for all age categories. The short circuit is from the stables to the first roundabout and back or in case of bad weather it is 3 laps in the hall. This circuit takes approximately 5 to 7 minutes. Price: €8
Large circuit
A sightseeing circuit on the trail around the Oravský Háj resort for beginners and advanced riders aged 10 and up. Beginners will enjoy a relaxing ride on a horse with an escort who will guide the horse the whole time. Advanced riders who have experience in controlling a horse can control their horse themselves during the ride. This circuit takes approximately 20 to 25 minutes. Price: € 22
Riding lesson
This includes the rental of a horse for 1 hour in the equestrian hall for an experienced rider aged 12 and up. This is a riding lesson without training, only with supervision. We require the rider have knowledge of riding in walk, trot and canter, which will be assessed by our trainer. If your riding skills are not sufficient, this service cannot be provided and is compensated by a large circuit in case of interest. The price of a riding lesson is €35. The lesson includes cleaning, saddling and bridling the horse.
Walk in nature
1 hour nature walk in the surroundings of Oravský Háj for experienced riders aged 12 years and up. We require the rider be able to control a horse in walk, canter and trot, which will be assessed by our trainer before the walk in the hall, otherwise this service cannot be provided. In case of bad weather, it is possible to change the outing to a riding lesson in the hall, rebook it for another date or cancel it. The price of the walk is € 40.
Half-hour ride for beginner riders
A 30-minute riding lesson intended for children from 8 years old on the lunge, non-riders or beginning young riders. The time does not include cleaning, saddling and bridling the horse. Price: € 25
Passes
Riding instruction for children aged 12 and up, as well as adult riders and non-riders alike. We provide 5-hour, 10-hour and 20-hour passes. Every hour on a pass includes cleaning, saddling and bridling, with the rest of the time set aside for riding, during which we will teach you the basics of riding.
Explanations:
Horseback riding is available from 10:00 AM to 12:00 PM and from 1:00 PM to 3:00 PM.
Horse-drawn carriage rides or sleigh rides are limited to six people.
We provide tack and saddle equipment rentals for riders.
Contact: +421 905 889 244